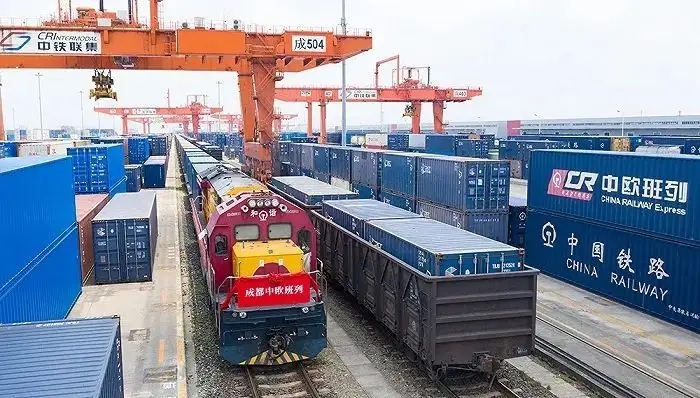 Despite the persistent native impact of COVID-19, the China-Europe Railway Express posted strong growth momentum in its ninth year of operation, playing an increasingly important role in maintaining global industry and supply chain stability, China's top economic planner said.
As of the end of July, 57,000 China-Europe Railway Express trips had been made, transporting 5.3 million standard containers worth of goods valued at nearly $300 billion. The network of 82 routes covers 24 countries and 196 cities in Europe, according to data from the National Development and Reform Commission (NDRC).
In the first half of the year, China's foreign trade with the 24 countries reached 3.45 trillion yuan ($508 billion), up 7.3 percent year-on-year, according to data from the General Administration of Customs.
Xu Jianping, director of the Department of Regional Opening-up at the NDRC, said at a press briefing on Thursday that the trains boosted production resumption in relevant countries and strengthened emergency support for international logistics, and they have become increasingly important in ensuring the security of international industry and supply chains.
While sea and air shipments were hindered after the COVID-19 outbreak, domestic operators of the China-Europe Railway Express actively engaged with enterprises for their export needs and customized special trains for groups of companies, including household appliance producer TCL, PC giant Lenovo and Geely Auto, Xu said. A total of 1,150 customized special trains have operated so far in 2022, which effectively eased disruptions on the international industry and supply chains, he said.
Shanghai EPU Supply Chain Management Co is an agent for China-EU freight trains that has been engaged in trading business between China and Europe for a decade. Tommy Tan, president of the company, told the Global Times on Thursday, "an increasing number of international customers favor the freight train services."
Since 2018, Shanghai EPU Supply Chain Management Co has used one trai